I happily worked this Independence Day at the Make Up For Ever Boutique at Sephora SoHo, it's always so much fun. Such an interesting dynamic of customers and a group of super talented and creative artist.
Here is how we showed our patriotism...
Patriotic to my fingertips :)
My face was painted by an amazing French man (I forgot his name) but eyes and lips were done by me.
Val is the amazing Lead Resident Artist for the Make Up For Ever Boutique at Sephora SoHo and here he is working is artistic magic on Derek a regular freelancer at the store.
A close up of Val's work.

Derek created this master piece including the New York City skyline and even the Statue of Liberty. This picture does no justice.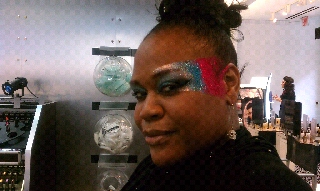 The lovely Frenchman did Jennifer's makeup too!
I'm always so inspired when I leave there. I really need to step up my avante garde and creative makeup skills. I will definitely be posting some of my creations.
Did you do anything fun and creative to show your holiday spirit?